Home | More Videos | About Us | Contact | Subscribe
Next World TV
Common Sense Solutions - Starting Now
About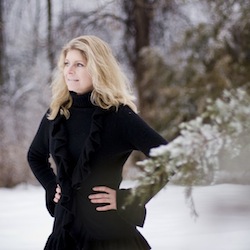 Photo by Emily Dermer
Welcome to Next World TV, a video gallery all about sustainability where you'll find a wellspring of inspiring, practical innovations and initiatives that spotlight common sense solutions to some of the world's "unsolvable" problems.
Nextworld TV videos are about the local food movement, community building, re-localizing the economy, homesteading skills, food politics, enlightened simplicity, natural home building, permaculture, alternative energy, transition town initiatives and more.
As a subscriber to this free service you will know every time a new video is posted. There is no registration necessary, and opting out is a simple click.
My name is Bibi Farber. My background in this area is simply that I am a concerned citizen, fascinated with the subject matter. My life has been in music, I'm a pop/ rock songwriter and guitarist from New York City. My music has been licensed to TV shows in over 300 instances, as well as several national commercials including Kodak, Lifetime TV, and more.
See www.bibifarber.com for more.
I spent my teenage years in Sweden, where I was infused with the ideas and energy surrounding the punk movement. The counter cultural, Do-It-Yourself spirit of that time, combined with the fundamental respect for nature, resources and common sense that Swedes are known for, have both profoundly influenced me ever since.
I come from a family of award-winning journalists: legendary national radio talk show host Barry Farber is my father, and my sister is investigative journalist Celia Farber, known for exposing myths surrounding AIDS and the pharmaceutical industry.
Subscribing to NextworldTV puts you on a fast track toward learning and raising awareness about a more self- sufficient and empowered, healthy and sustainable life. It begins with giving voice to a new dialog: how we think about food, time, work, money and community...there are gigantic and amazing changes afoot!
If one quote could summon the spirit of this website, it is this:
"The survival of the fittest will one day be replaced by the flourishment of the most co operative."
Native American Bird Tribes
We don't have to wait for a better future. Subscribe to Nextworldtv and see how we can start building and living in the next world now! You'll receive an email every time we post a new video, providing you with daily inspiration.
Welcome!
Subscribe to Next World TV
Absolutely Free.
Every time we post a new video,
we'll send you a notice by e-mail.


Return to the next world tv home page